Driver training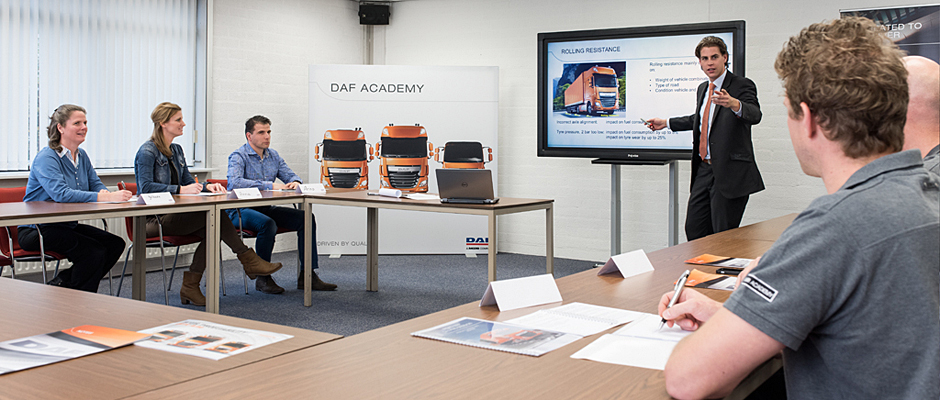 The driver is key to achieve highest possible vehicle efficiency. DAF Driver Academy trainings help the driver to save fuel by anticipating even better on traffic situations. The result: lower operating cost and highest vehicle availability. DAF Academy training helps your driver to get the best out of your truck and save at least 3 to 5% of fuel!
DAF Driver Academy
DAF Driver Academy
Save 3 – 5% on fuel cost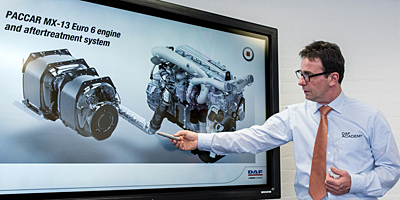 The objective of the DAF Driver Academy is clear: supporting you in achieving maximum fuel efficiency thanks to a driver who's aware of the importance of economic driving. Improving driver performance will result in a higher return per kilometer and optimized vehicle availability.
Our trainers come from the real world: they all have an in-depth understanding of how to get the best out of your trucks. They know the world of your drivers and can therefore support them with valuable advice, which also enhances health and safety aspects.
DAF Driver Trainings can be tailored to suit individual driver and company-specific objectives. Both In-Class and In-Cab training can be provided with minimum disruption to work schedules.
Benefits include:
Reduced fuel consumption
Reduced CO2 emissions
Improved vehicle reliability

Improved driver productivity

Improved health and safety of the driver and the environment.

Increased uptime
Your DAF dealer is happy to discuss the various DAF Driver Training options that are available. Use the DAF Dealer Search to find your nearest dealer.

DAF EcoDrive+ training
DAF EcoDrive+ training
For even greater efficiency and a cleaner environment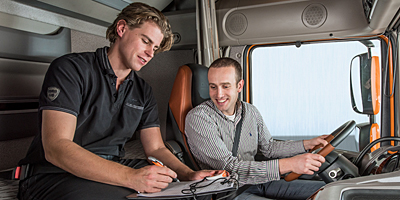 The new DAF EcoDrive+ training supports the driver in handling the truck in the most efficient way and pays a lot of attention to the benefits of the latest on-board technologies. DAF EcoDrive+ training results in 3 to 5% better fuel efficiency in the long run.
You can do the math yourself: fuel bills for a 40 ton long haul truck combination easily exceed €60.000,- per year. A 4% fuel efficiency gain means a saving of
€2.400,-. Per year per truck. That's a bottom line business benefit you can't ignore!
At the start of the DAF EcoDrive+ training the driver is challenged to show his or her actual driving skills. During this session, time, fuel consumption and DAF Driver Performance Assistant scores are monitored. In the second stage, the driver receives all theoretical information on how to make optimum use of all the DAF systems that enable him or her to drive as economically as possible. The final part of the DAF Driver Training is a coached driving session, during which all theoretical information is put into practice and new scores will be monitored to show the improvement.
The new DAF EcoDrive+ training optimizes driver skills and enables the driver to make best use of all the latest DAF features, including:
EcoMode
EcoRoll
the enhanced MX Engine Brake
the DAF Driver Performance Assistent
Predictive Shifting
DAF EcoDrive+ courses result in permanent fuel savings of 3 to 5 %. And as an added bonus reduce wear on tyres and brakes. Investing in DAF EcoDrive+ training quickly pays for itself. Just look at this simple example calculation:
Your truck covers 150,000 km per year

The fuel saving is 4%
This equates to:
2,000 litres of pure profit per truck

a 4% reduction in CO2 emissions
Would you like your drivers to contribute to healthy operating results and a cleaner environment ? Your DAF dealer will be happy to discuss the various options with you. Use the DAF Dealer Search to find your nearest dealer.
DAF Vehicle Hand-over
DAF Vehicle Hand-over
Efficiency right from the start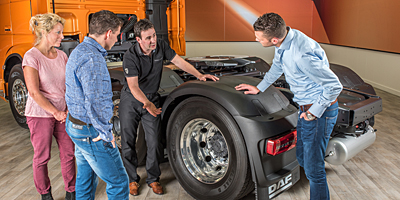 Your DAF truck features many systems and technologies to ensure highest safety, comfort and efficiency.
DAF Vehicle Hand-over trainings ensure that your driver makes optimum use of all these features from the moment he starts his first trip.
When a new vehicle is delivered, the DAF dealer takes time to optimally instruct the driver on the many vehicle functions. By familiarizing him with this new DAF, a driver immediately learns how to generate maximum efficiency from this truck, which results in even lower operating costs and a further reduced impact on the environment.

DAF Vehicle Hand-over training includes amongst others information on:
Vehicle Hand-over Procedure and Checklist
Vehicle Warranty, Vehicle Maintenance
Vehicle related documents
Daily checks
Driving related systems
Seat, steering and mirror adjustments
Digital information panel
Fuel-efficient driving style and factors that affect fuel economy
Effective use of the exhaust brake and MX Engine Brake
AS Tronic functionalities
Your DAF dealer will be happy to discuss the various DAF in-cab training options that are available to you. Use the DAF Dealer Search to find your nearest DAF dealer.