Chassis
The chassis of the LF Euro 5 has been designed for maximum stiffness and excellent driving characteristics, a low kerb weight and ample room for positioning components. The chassis is completely flat and the electrical installation ensures maximum bodybuilder friendliness. In order to provide vehicles tailored to every application, the LF Series features a large number of variants in terms of payload and wheelbase.
High payload
Light and strong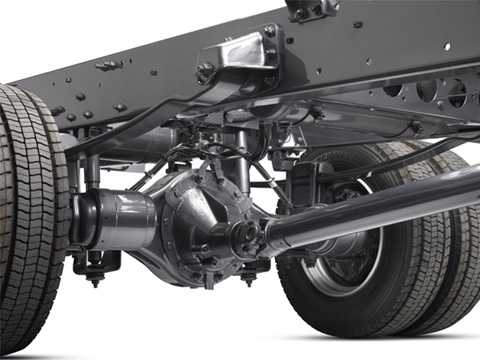 The LF chassis is a single-wall construction, which keeps kerb weight as low as possible — high-quality steel is used for maximum strength.

For extra load capability, the 18 and 19-tonne models can be fitted with a 13-tonne rear axle, which is important in countries where loads exceeding 11.5 tonnes are permitted on the driven axle.
Easy to build on
Important for a truck in the segment of the DAF LF is the bodybuilder friendliness. The chassis of the LF is for that reason completely flat. Practical mounting brackets are available as an option.

Configurations
Wide variety of chassis configurations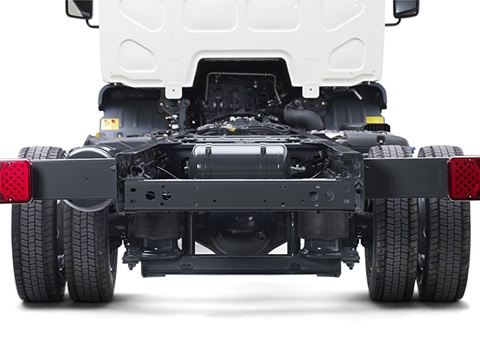 DAF offers the LF Euro 5 in various weight classes. The rigids with 17.5 inch wheels offer GVWs of 7.5 to 12 tonnes with net load capacities ranging from 4,180 to 8,300 kilograms.
When equipped with 19.5 inch wheels, the 14 and 16-tonne rigids offer net payloads from 9.570 to 11.570 kilograms. At the top of the LF program are the 18 and 19-ton rigid models with 22.5 inch wheels and a gross combination weight of 26 to 32 ton.
Wheelbases
In order to provide a DAF LF tailored to any application, you can choose from a wide range of wheelbases. The 12 tonnes version is available with five wheelbases ranging from 3.90 to 5.40 meters. For the class of 14 to 16 tonnes six wheelbase variants are available, ranging from 3.80 to 5.90 meters. For the 19 ton models, eight different wheelbases between 3.45 and 6.25 meters can be chosen.