Exterior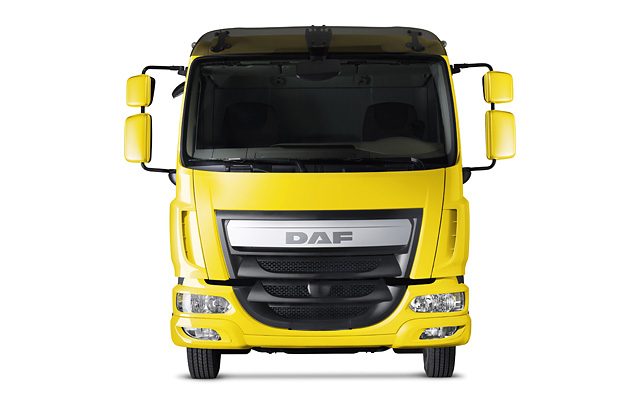 The LF is the calling card for every transport operator. It shares its stylish looks with the CF and XF.
Design
The appearance of the DAF LF cab is set by the deep, wide grille. Above the chrome panel with DAF logo there is ample space for your company name.

Aerodynamic corner deflectors ensure that the handles of the doors stay clean.

The headlights with optional Day Time Running Lights are made of unbreakable Lexan. That means lower costs and maximum vehicle availability.

The galvanized steel bumper means low susceptibility to damage.

Optional cornering lights, integrated into the front bumper, shine in the direction of travel for even more comfort and safety.

Good visibility for the driver is essential. Especially in an urban environment. The DAF LF provides unobstructed view to the front and sides. Together with the optimal mirror positioning this provides extra security and reduced risk of damage.
Attractive design: sturdy yet friendly
Important for a truck that operates in city areas: a friendly appearance. The design of a distribution truck has to be sturdy as well. The DAF Design team combined both. The DAF LF exterior however offers more than just a great look. It contributes to efficiency, uptime, comfort and safety.
Cab variants
DAF LF 12t Day Cab

DAF LF 14-16t Extended Day Cab

DAF LF 19t Sleeper Cab
Three compact cab variants
The DAF LF series is available in three cab variants:
a Day Cab with a length of 160 cm
an extended Day Cab with a length of 200 cm
a single bed Sleeper Cab with a total length of 200 cm
The cabs have a compact width of 2,130 mm, which benefits the maneuverability in urban distribution, especially in combination with the small turning circle (wheel angle 50 to 53 °, depending on the cab variant).