DAF worldwide

A quality organisation behind a quality product
DAF products are manufactured in Eindhoven (the Netherlands), Westerlo (Belgium), Leyland (UK) and Ponta Grossa (Brasil). Production of engines, cabs, axles and chassis as well as final vehicle assembly are integrated in the various facilities. Westerlo is the home of DAF's axle and cab factory. Leyland is the manufacturing site for DAF's light and medium duty LF vehicle range, as well as heavy duty CF and XF models. DAF products are sold and serviced by a network of over one thousand independent dealer locations throughout Europe, the Middle East, Africa, South America, Australia, New Zealand and Asia.
World Class facilities

Production facilities in Eindhoven

Production facilities in Westerlo

Production facilities in Leyland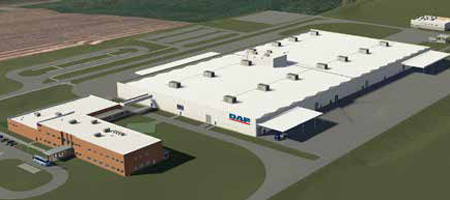 Production facilities in Ponta Grossa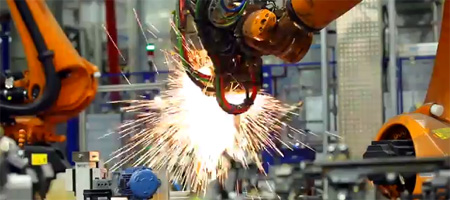 The latest production technologies at DAF Trucks
DAF utilizes the innovative PACCAR Production System (PPS) in its manufacturing operations. In DAF's engine factory, employees receive standardized work instructions on PC workstations. Robots are used to enhance assembly accuracy and factory ergonomics. At DAF's component factory skilled workers use advanced welding robots and laser cutting machines to produce a wide range of cab, chassis and axle parts.
Ultramodern CNC-controlled machines and welding robots have been installed at the Westerlo cab and axle factory to continuously improve quality. The Leyland assembly plant is a highly modern facility producing the DAF LF series, as well as CF and XF models.
Quality trucks built by quality people
DAF Trucks is constantly increasing quality and efficiency. Within the PACCAR Production System, there is a continuous effort to do everything right the first time, without waste of energy and materials and with the best quality. The knowledge and skills of DAF employees, together with the PACCAR Production System, form the basis for continuous process improvement. The result is a world-class product manufactured in world-class factories by world-class people
Environmental Leadership
DAF is an environmental leader, offering a full range of fuel efficient and ultra-clean diesel engines meeting the most stringent emission standards. DAF was among the first European truck manufacturers to comply with the ISO 14001 standard for environmental care.
All production facilities have achieved 'Zero Waste to Landfill'. Thanks to the application of the latest and highly sophisticated technologies, DAF's new and ultra-modern cab paint facility in Westerlo, Belgium is the latest example of how DAF leads the way in environmental care and stewardship.
National Sales Organisations
DAF Trucks N.V. has subsidiaries in Austria, Belgium, Czech Republic, Denmark, France, Great Britain, Germany, Hungary, Italy, Poland, Slovakia, Spain, Switzerland, Turkey and Russia.
In all other European countries and a number of markets outside Europe, DAF Trucks is represented by independent distributors. To be able to offer its customers optimum service, DAF operates an international network of around 1,000 dealers and service points.

DAF dealers are supported by PACCAR Parts Distribution Centers in the Netherlands, the United Kingdom, Spain, Hungary and Russia.
Click on the button for more information
DAF Dealer Organisation
More and more transport companies are operating internationally. That requires a uniform dealer network, so that we can best serve our customers. The DAF dealer network is a quality organization behind a quality product.
DAF has about 1,000 representatives in Europe and beyond, consisting of DAF Dealers™ and DAF Service Partners™ (many of whom do both). One-stop shopping is the principle in that case, meaning you you can find everything you need for your fleet at one address, whether it be buying a new or used truck, financing, maintenance and repair contracts, parts and accessories, or maintenance and repair of related equipment and components like tail lifts, cooling aggregates and cranes.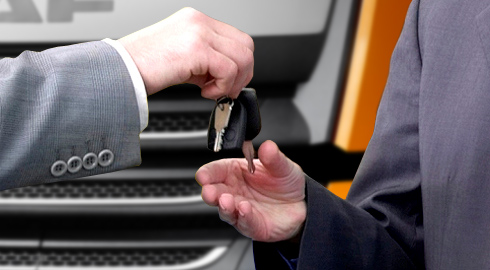 DAF Dealers™
DAF Dealers™ are geared towards the sale of new and used vehicles. The sales people are transport consultants, who use the most modern software and vast knowledge and experience to determine precisely the specifications required for a specific use. Once a vehicle's specifications are finished, it is ordered directly from DAF in Eindhoven. After that, information is always available on-line regarding the status and delivery time of the vehicle ordered.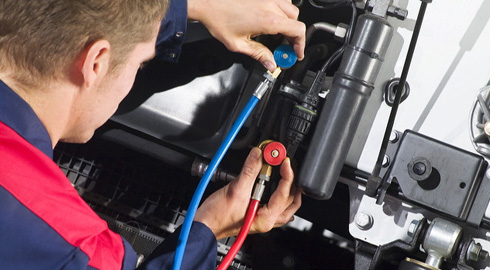 DAF Service Partners™
DAF Service Partners™ are at the ready to help you with everything to do with maintenance and repair. They have the most advanced DAVIE diagnostic equipment and highly qualified service staff. They can help you with the maintenance and repair of other truck makes, as well. As part of the 'TRP Programme', DAF Service Partners™ stock universal parts. Even if you handle maintenance of your fleet yourself, your DAF dealer is the partner for you. Not just for supply of DAF parts, but also for your workshop consumables and tools and parts for trailers, tail lifts and body.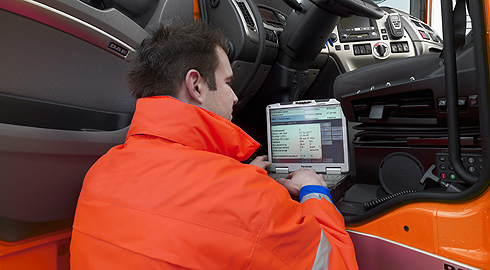 DAF Service Support Points™
Besides DAF Dealers™ and DAF Service Partners™, in a limited number of countries you will also find DAF Service Support Points™ that operate in conjunction with DAF Service Partners™ to meet your maintenance and repair needs.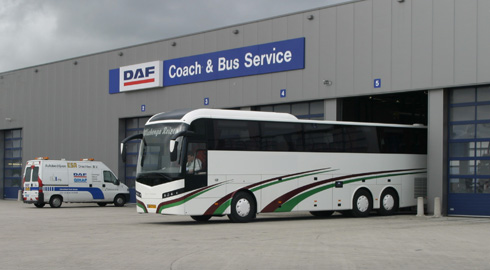 DAF Coach & Bus Service Partners™
DAF also has a network of 150 specialised 'DAF Coach & Bus Service' partners strategically situated along the main routes in Europe. They are geared towards maintenance and repair of specific coach components, such as toilet facilities, catering and on-board audio and video equipment.